What is Software Supportability?
Software Supportability is the capability of supporting a software system over its whole product life. This implies satisfying any necessary needs or requirements, but also the provision of equipment, support infrastructure, additional software, facilities, manpower, or any other resource required to maintain the software operational and capable of satisfying its function.
What does Software Support encompass?
Software Support covers the whole software life-cycle once it enters into service. In particular, it covers the following key aspects associated to the software:
Operation
Logistics Management
Modification
Operation covers all aspects associated to the actual use of the software, including the installation, loading (or unloading), configuration, error recovery and execution of the software.
Logistics Management covers all aspects related to the handling of the software once a new baseline has been produced, until its delivery to the end user.
Modification (often mistakenly called Software Maintenance) covers all aspects related to the evolution of the software due to the need of fixing bugs, or adding/changing functionality due to changing user needs.
These three aspects represent the functions associated to software support. Each of this functions has however a set of support classes that characterize it: Modification, for example, has a different software product (a design) than operation (an executable). The environment (a software house vs the user site) is also different. And, of course, things are being done differently for each function, even if the overall process is the same.
On the other hand, all these things are done at different places, by different people, who do different things. This is called the support profile. Combined with the support classes and the support functions, the forms the overall Support Concept. A very good description of what a support concept is can be found in SAE JA1006, Software Support Concept.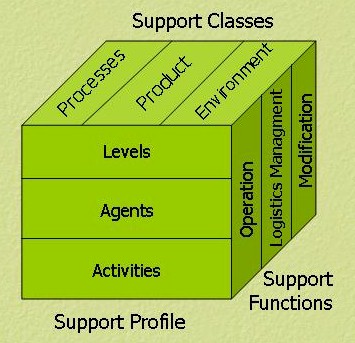 Software Support Concept
A full list of all software supportability standards can be found here.